I'm a fu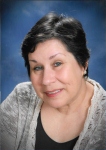 ll-time Realtor and I love helping people find a new home. I realize this is one of the most important decisions that people make and that they have to be able to depend on their Realtor to not only help them find a house or sell a house but, I need to work on your behalf to negotiate and guide you through the inspection and closing process.
I've learned over the years that to be successful in real estate I have to listen to the needs of my buyers and sellers. Whether you're selling a home or buying a home for the first time I can help you get to the closing.
I love traveling and gardening and spending time with my family and pets. I 'm also an active member of my church.